Le
Villagio
Holiday Apartments
Located in the heart of breath taking natural spectacle, Le Villagio is a magnificent Serviced Apartment at Sulthan Bathery. We take pride in our pacifying interiors, and the wide range of amenities located within our premises. Built to make your trip memorable and peaceful, our vacation rentals offer an ideal choice for guests, tourists and business travellers who're looking to engage the captivating beauty of Wayanad.
Accommodation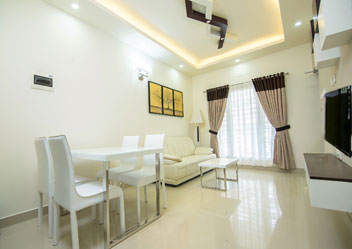 Two
Bedroom
Apartments
Enjoy scenic beauty with our Two Bedroom serviced apartments. This package makes an incredible choice for a couple, or a group of friends who're looking to unlock ..
One
Bedroom
Apartments
One Bedroom serviced apartments offers a unique choice for discerning travelers who'd like their wayanad stay a little more intriguing. This room contains everything ..

One of the most outstanding Wayanad homestay, Le Villagio has well furnished rooms and a wide range of in-room amenities for your full convenience. The lush green scenery and sense of cool around our Sultan Bathery location adds to our well thought-out interiors to give you a meditation-like peace of mind. At Le Villagio, every member of our service team will go out of their way to make your stay as memorable as possible. Our ample leisure amenities, friendly staff and magnificent valley outlook makes Le Villagio an ideal choice for short term stay, long term residency and leisure or business travel across Wayanad.
The apartment is conveniently and strategically located near major tourist hot spot of Wayanad, and serves as a great residency for both short term and long term tenants. We take pride in our modern amenities, and boast a history of success serving customers. We tailor every minute of our service to squarely meet your needs and convenience. This way, our customers always come back.